Trainer's Message
It is my pleasure to welcome you to Varian Stable. Hopefully the various pages on this website will give you an insight into the way we operate, showcase our excellent team and give you a view of our five star facilities. 
My ethos is simple; Varian Stable is a team that is about inclusiveness. At the heart of this team are our owners who shoulder the cost of participating in this wonderful sport and in doing so provide a future for the industry. Instrumental to the team's success we have dedicated employees responsible for educating and nurturing the many horses in our care, allowing them to fulfil their potential. Racing fans are also part of the team in providing atmosphere and encouragement, sharing with us the many rollercoaster journeys that the thoroughbred takes us on.
My ambition is to maximise the ability of every horse in our stable. To provide a level of care and well-being to the horses that they deserve. Our aim is to provide trust and assurance to our clients, with the goal of combining all-important results with up-to-speed communications. At the same time we are conscious to provide opportunities for people new to the industry to access this magnificent sport.

Roger Varian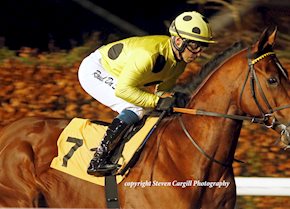 Latest news
The two-year-old son of Saxon Warrior raced prominently under Raul Da Silva. He took a little while to get rolling once they entered the home straight, but once he hit his stride there was no stopping him and he cruised home for a taking debut succes
All news