It is not very often when a plan comes together but in this instance everything went perfectly. Pekan Star, Sri Putra's pacemaker, set an even pace upfront allowing Sri Putra to relax into a good rhythm.
He was always travelling strongly but still had a wall of horses ahead of him with two furlongs to run.
Afsare hit the front but when the gap came for jockey Neil Callan, Sri Putra picked up well and galloped in pursuit of the leader.
He headed Afsare with 100yards to run and stuck his neck out gamely to repel that rival by a neck with nearly four lengths back to the third, Side Glance.
Neil said: "He's quite a classy animal, he's always had to mix it with the best. He loves this fast ground and really rattles off it. When things go right he's a very good horse."
Roger added: "He's a grand servant and deserved to win a race like this. Until he won this year he'd gone two years without winning, although he'd run some great races, but it all came together today so we're very pleased.

"I can understand why he was a big price, but if you look through his form he has beaten most of these.

"He had a race like this in his locker but it all had to work for him and it did today. If the race is run quick horses come back to him and that suits his style.

"We had Pekan Star make the running so no-one else could dictate it for them. I wasn't sure we were going quick enough but Sri Putra relaxed and some of the others were a bit keen, so it worked out for us.

"I'd like to plan an international campaign for him in the autumn. Where that will take us I'm not quite sure."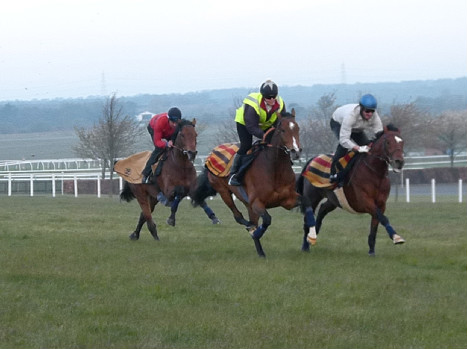 Sri Putra (far side) works under Paul Dell on racecourse side.